The list of reasons why it's essential to take a handful of rugs on tour with you is surprisingly long. Beyond stage design and style preference, rugs provide additional sound, comfort, and organization benefits.
Our friends at Stage Rugs have some amazing, high-quality rugs that are some of the best in the industry. But you can also find great, affordable options at thrift stores, vintage markets, and Antep Rugs (click on Amazon).
If you're unsure whether or not you need a rug or two, read our article answering how and why rugs benefit touring bands and musicians—you might be surprised what you learn.
STAGE RUGS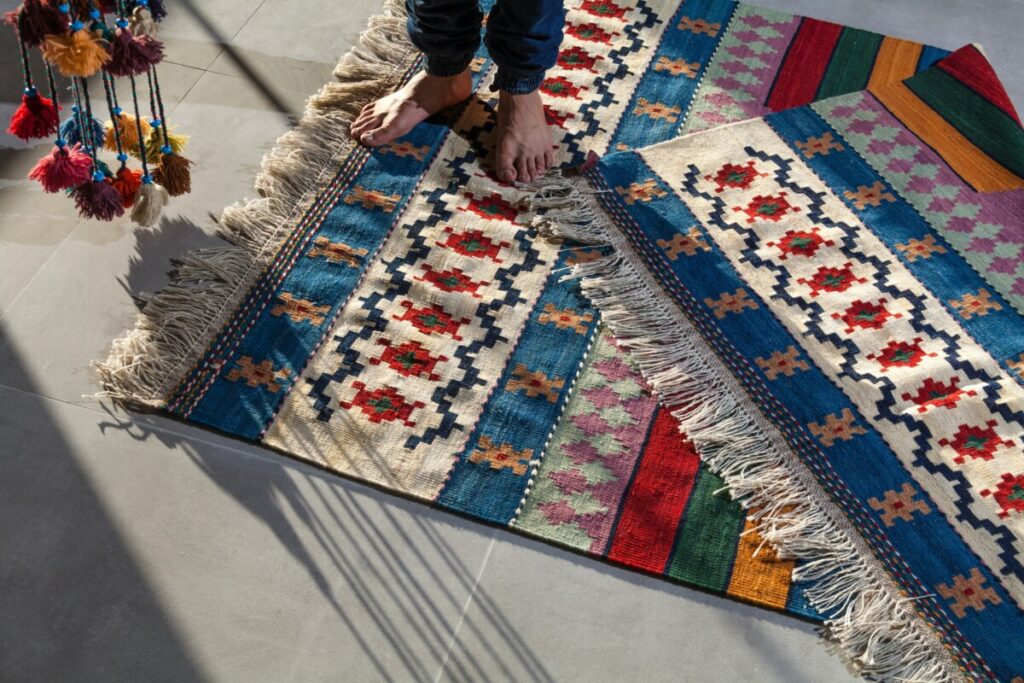 Stage Rugs are a great option because their rugs are crafted for the stage.
Made in the USA, Stage Rugs are certified CRI Green Label Plus, giving off the lowest possible chemical emissions.
Nestled in the valley of northwest Georgia, at the base of the Appalachian mountains, Stage Rugs was started with a dream of combining concerts with Southwest and Native American designs.
Their rugs hide cords, reduce echo, provide comfort, dampen footsteps, hide spills, keep equipment from rattling, and bring a stage alive.
Stage Rugs also look great off-stage, in casual settings like your home or cabin.
"We have taken the same precision and care that the Native Americans use to approach their rugs and quilts and added our signature durability and commercial-grade level of protection to ensure that our rugs survive many years of wear and tear."
Many of their rugs include premium Endurastran nylon fibers, which means they keep their color, shed dirt easily, resist stains, and clean easily with warm water.
Stage Rugs are treated with antimicrobial agents and utilize Loc-Bak technology to ensure they lie flat. They're also fire-resistant, meaning they aren't going to burst into flames by cigarette butts or fireplace embers.
Stage Rugs are a little pricey, but after all that these rug-smiths have thought to include into the actual fibers of their products, by comparison, they are priced fairly modestly.
Honestly, the best part about Stage Rugs is that this company is run by people who understand music. They take pride in their rugs and care about your satisfaction — not to mention they offer free shipping.
ANTEP RUGS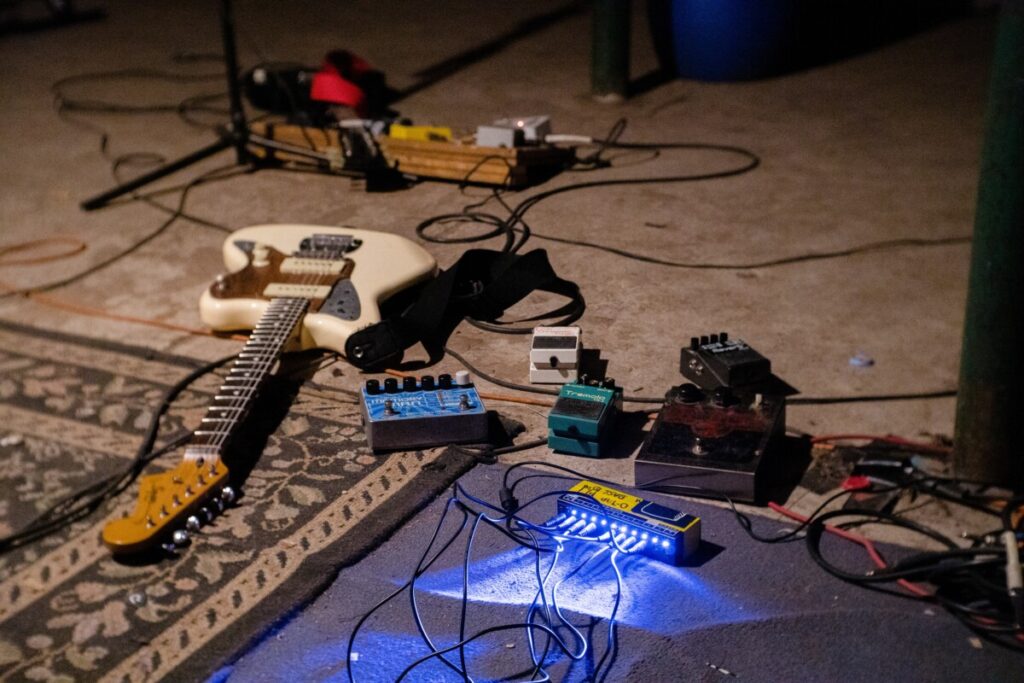 Antep Rugs are another great option if you want something quick, cheap, and reliable.
Manufactured and imported from Turkey, these versatile area rugs aren't the same quality as Stage Rugs but feature stylish color schemes and bold, eye-catching patterns that will equally complement a home studio, rehearsal space, and concert stage.
Machine-made from stain-resistant and durable 100% Polypropylene, Antep Rugs are crafted for home décor and designed for comfort and style.
With a pile height of 0.3″, these rugs offer comfort without being too bulky — they do a fantastic job of discreetly covering cords and wires on-stage while helping provide some cushion beneath your feet.
The strong materials hold their own against regular wear-and-tear and can be easily maintained with regular vacuuming and spot-cleaning.
However, I wouldn't recommend removing the label on the back of the rug — Antep makes it clear in their packaging that removing the label may damage the rug permanently.
Antep, while not the same quality or variety as Stage Rugs, still produces an impressive range of colorful floor rugs that will effectively complement any studio space, practice room, or concert stage like a work of art.
For more tour-tested and home studio-recommended products, check out our Ennui Resources page.