One of the first questions many bands are forced to ask themselves is how to register (or trademark) their band name.
Acquiring a trademark on your band name is something you should probably do in the early stages of your career to prevent major issues down the road.
When you start to use the name for commercial purposes, or you're making substantial amounts of money (that someone might try to take away from you) you probably should start thinking about applying for registration of a trademark.
Luckily, the process of legally registering a band name isn't especially difficult or expensive, unless that particular name is already trademarked.
Unfortunately, we've all heard stories of bands having to alter or completely change their name because they neglected to check the U.S. Patent and Trademark Office (USPTO) database to make sure that the name didn't already belong to somebody else.
Even though the jargon of copyright law can feel a bit like listening to a Trekkie speak Klingon, checking the database and subsequently applying for trademark status is fairly straightforward.
So here are "8 Easy Steps to Legally Register Your Band Name" and never have to worry about getting sued by some defunct dad-rock band in Switzerland.
STEP 1 – PICK A NAME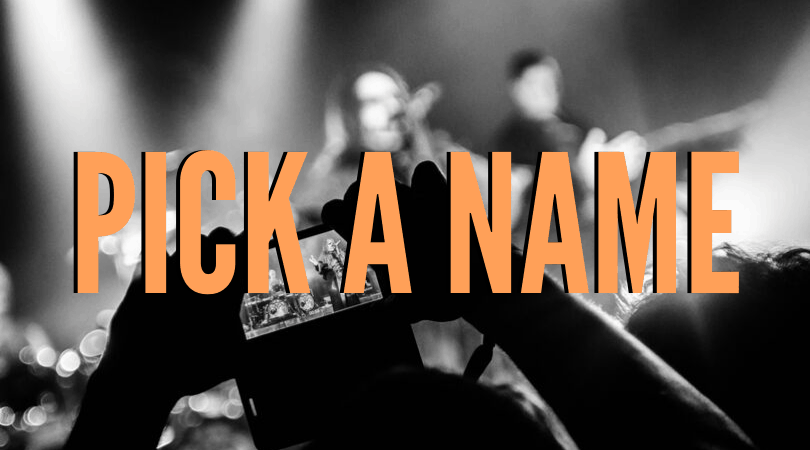 It might seem obvious, but the very first thing you need to do, if you haven't already, is think of a good band name.
Like any product or service, choosing something that accurately identifies who you are is a critical part of branding and marketing your music.
This can be complicated and require a lot of time and attention, making it one of the most difficult parts of the entire process.
Unless you're a band with a name like, "Butthole Surfers" or "No Use For A Name," coming up with a single word or phrase that encapsulates how you want people to think of you can be a heavy decision.
Many bands change their name several times in the early stages just because they're still figuring out who they are and what kind of music they're trying to create — no legal connection whatsoever.
Unfortunately, once you've spent the time and attention to find the perfect name, it's probably already registered.
STEP 2 – CHECK THE DATABASE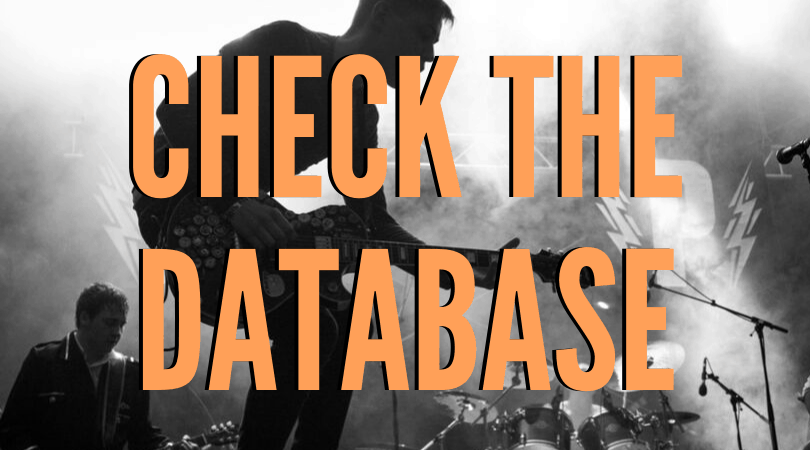 The second step after deciding what you want to call your band is to check the U.S. Patent and Trademark Office (USPTO) database to make sure your band's name hasn't already been registered.
The entire database is available to check for free through the USPTO website and their Trademark Electronic Search System (or TESS).
Once you type in your desired name, two types of results will appear: Live trademarks and dead ones.
If you're lucky, no results or only "dead trademark" results will come up on TESS and you'll be able to apply to register the name as a legal trademark.
If you're unlucky, the name will already be registered and a "Live trademark" will appear, meaning you'll need to think of a new name.
However, you can always do more research.
Trademarks must be renewed every 10 years, so if the renewal deadline is coming up, you can apply to register the trademark after it expires.
Edit: In some cases, you can still ask or pay for the limited use of a previously registered trademark (see Step 8 – License The Name).
Another important thing to note is many terms are commonplace enough that it doesn't matter if they're already registered.
Naming your band something that is established as general-use can cover any legal claims that could be brought against you, like the recent developments with LeBron James' requests to purchase the rights behind "Taco Tuesday."
If you're going to name your band a generic term or saying like, "Young And In Love" or "Safe And Sound" — even if the database says it's registered, you're probably OK to forgo applying for a trademark.
Also, if a trademark is registered in a different category than the one bands are registered in, you've probably still got a shot.
For example, have you ever wondered why there's a book, a movie, and a band named "The Devils Wears Prada" but none of them have anything to do with each other?
It's because each of those categories are different enough that people understand The Devil Wears Prada (band) is different from the Meryl Streep movie.
For many bands, simply checking the database will end the registration process because until you're signing a major record deal, or embarking on a national tour, registering a new band name as a trademark isn't really necessary.
It's an expensive application and as long as no one else has registered the name, you're probably fine to use it for free for a little while.
And it might be cynical to say but by the time someone else comes along to use the name or wants to put in a request to license it, most bands have already called it quits.
STEP 3 – ESTABLISH YOURSELF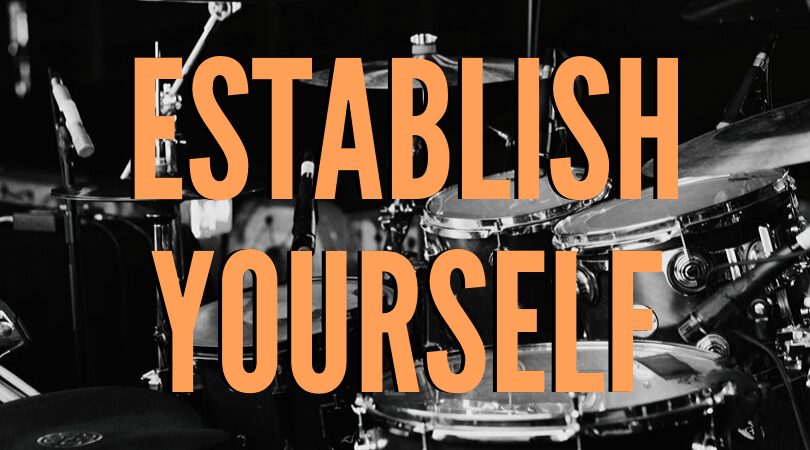 Once you know the name is available, you should immediately start using it.
As long it isn't officially trademarked, anyone can freely use the name.
The sooner you start using the name publicly, the easier it will be to prove to the USPTO that the name is yours when you apply for the trademark.
An important part of this step is to get some press. According to LawTrades.com, "Publication in an official newspaper is required to complete the trademark application."
Getting press can seem difficult and confusing at first, but it will get easier as you develop relationships with local writers and journalists.
The easiest and quickest way to get press is to put together an EPK (Electronic Press Kit) and email it out to local newspapers, magazines, and blogs asking them to write about your band.
Be sure to let them know your gig schedule, and invite them out to a show.
If you can, introduce a PR angle and donate some of your ticket/album/merch sales to a local charity — it might only be a couple of dollars, but it adds a unique element to the story and newspapers, especially, eat that stuff up.
Getting press from a recognized publication not only helps in the legal process of registering a trademark, but it also provides an opportunity for exposure, establishing credibility, and developing relationships with venues, promoters, and labels.
STEP 4 – FILE THE APPLICATION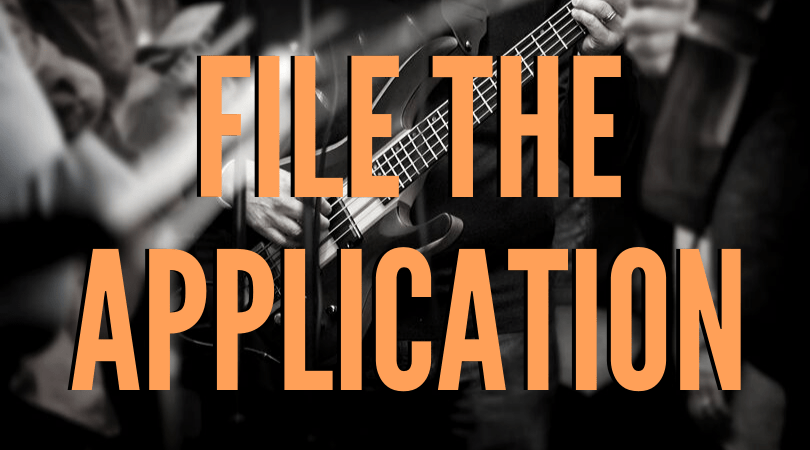 If you're confident someone will try to steal your name and you're determined to cover all your bases, the next step is to officially apply for trademark status.
To do so, you'll need to fill out the initial trademark application form. The form is available through the USPTO website and can be completed online or in print format.
The USPTO recommends submitting the application online, through their Trademark Electronic Application System, or TEAS, because of verification functions, 24-hour availability and lower filing fees.
When you file the application to register the trademark, you'll need to select whether the trademark you want is for an image, like a band logo (think Metallica) or simply text, for the band's name.
We recommend you trademark your band name as text, covering its use in any format, including a logo.
Alternatively, when you register your band name as an image, the trademark will only cover its protection as part of a logo.
HIRE A U.S.-LICENSED ATTORNEY
If you're not located in the U.S. but are looking to acquire registration of a trademark in the U.S. you'll need to include another step to the process: hiring a U.S.-licensed attorney.
The USPTO recently implemented a new trademark rule that requires foreign-domiciled (non-U.S. residents) applicants and registrants to have a U.S.-licensed attorney represent them while applying for trademark status.
This includes Canadian citizens, who previously were able to be represented by Canadian patent and trademark attorneys and agents.
You can read more about this rule and who it affects on the USPTO website.
STEP 5 – RESPOND TO REQUESTS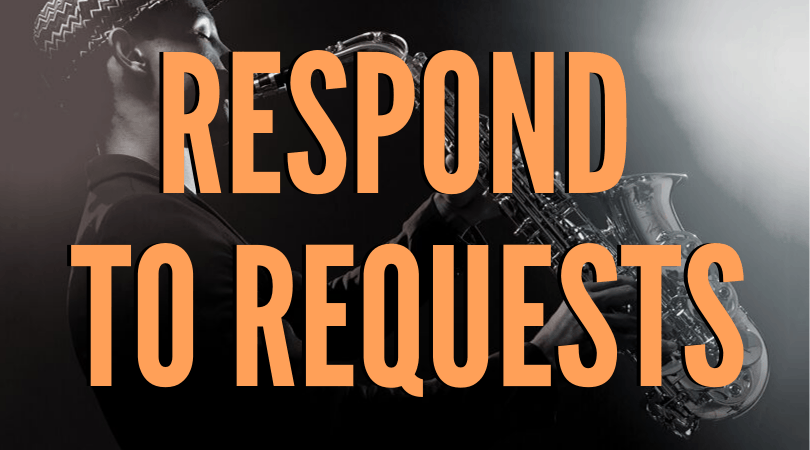 After submitting the initial application, it's your duty to check your application or registration status, correct filing errors, and complete any additional requirements.
You can check the application status of your trademark through Trademark Status and Document Retrieval (TSDR) 24 hours a day, 7 days a week.
How often should you check the application status of your trademark? While waiting for registration of a trademark, the application status should be checked every 3-4 months. Within the first few weeks after filing the application, the Trademark Status and Document Retrieval program may not reflect the most current status, due to internal processing activities at the United States Patent and Trademark Office.
The USPTO will occasionally need answers to clarifying questions, the completion of additional paperwork, or other specifications and specific requests.
It's important to respond quickly and appropriately to anything the trademark office requests.
Missing or ignoring requests from the USPTO will only lengthen the application process, or prevent you entirely from acquiring registration of your desired trademark.
According to the USPTO website, "Failure to respond timely to any Office action or notice may result in the abandonment of your application, requiring you to pay an additional fee to have your application revived even if you did not receive the office action or notice."
If the request to revive an application is not made within 2 months of the mailing date of the notice of abandonment, the revival of the application is actually declined.
The USPTO also does not extend filing deadlines even in cases where USPTO mail/e-mails weren't received.
That's why it's important to stay on top of all additional requests and make sure you include the correct contact information in the initial application.
If you're contacted by the USPTO, you'll need to complete the necessary response forms (which can be found here) and submit them accordingly.
STEP 6 – PAY THE FEES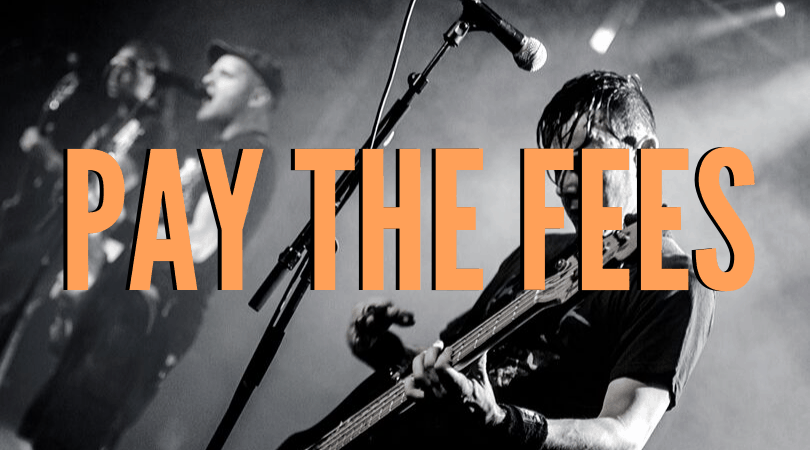 Like anything to do with the government, the next thing you'll need to do in the trademark process is pay the required filing fees.
How much does it cost to trademark a band name? Filing a trademark for your band name with the U.S. Patent and Trademark Office will cost between $225 and $600, including additional legal fees. If you register exclusively in your home state, you can acquire a local trademark for $50-$150 but it won't include protection in other states.
If you file online, the best way to avoid additional charges is to pay by electronic check. Otherwise, you can pay with a traditional debit or credit card for a small processing fee.
If you file in person, you'll need to pay with a cashier's check or money order made out to the U.S. Patent and Trademark Office.
Watch this video that the USPTO put together if you're still concerned about how much your specific trademark is going to cost.
TMIN NEWS 19: FEES
WATCH OUT FOR SCAMS
Be careful in this stage — like anything that requires payment for services, there's going to be someone out there trying to scam you.
When applying for trademark status, make sure you're only going through official channels (like the USPTO) that actually have the authority to register trademarks.
There are countless websites and under-the-table services that will offer you copyrights, trademarks, and patents for cheap — none of them are real.
In one of my first bands, we had small a dispute with our producer over money.
We released some unfinished mixes of our songs to show our friends and family and never ended up finishing the songs.
We didn't know it at the time, but the producer was super pissed and later on, he actually threatened legal action, claiming we'd released those mixes without his consent and without paying him for his services.
He claimed he owned the copyrights on those songs (partially true) and that he deserved a cut of any sales we had made.
Because we thought we were going to get sued, we ended up paying some sketchy web service (that doesn't exist anymore) for rights to all of our music, lyrics, artwork, and band name.
Luckily, the producer's threats were empty and the whole thing got swept under the rug, but we learned shortly afterward that purchasing those rights to our music was just a scam.
So don't make the same mistake. If you're seriously considering registering your band name, make sure you go through the official U.S. Patent and Trademark Office.
If you don't have the cash on hand, wait until you do. Don't waste your time or money on a web service that claims they can register your trademark for cheap because they can't.
The only way to purchase a legally recognized trademark is through the USPTO or your local state offices.
STEP 7 – WAIT FOR CERTIFICATION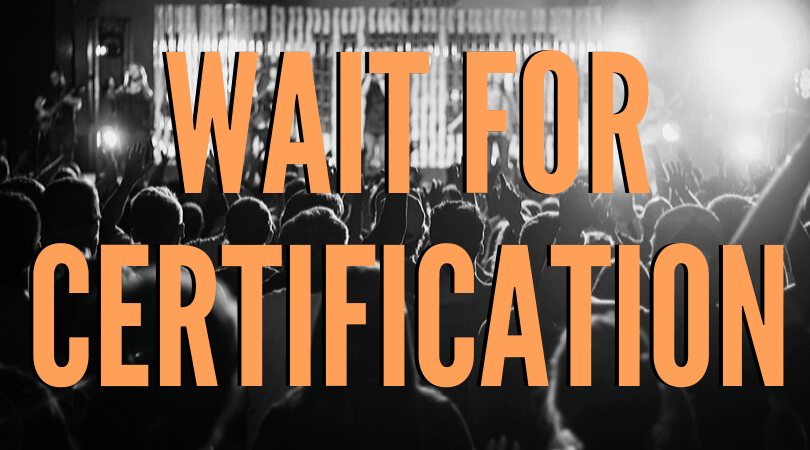 Once the application is complete, all response forms are submitted, and the trademark is purchased, it immediately takes legal effect.
However, it may take an additional 1-2 months before the official certificate is received.
This is largely due to the time it takes the USPTO to process the necessary paperwork and put in a formal request to print the trademark certificate.
Once the certificate is printed, it's looked over for inaccuracies, signed and subsequently mailed to the address provided by the applicant.
Shipped through the United States Postal Service, the certificate can typically be expected to be received in 5 to 7 business days.
STEP 8 – LICENSE THE TRADEMARK (OPTIONAL)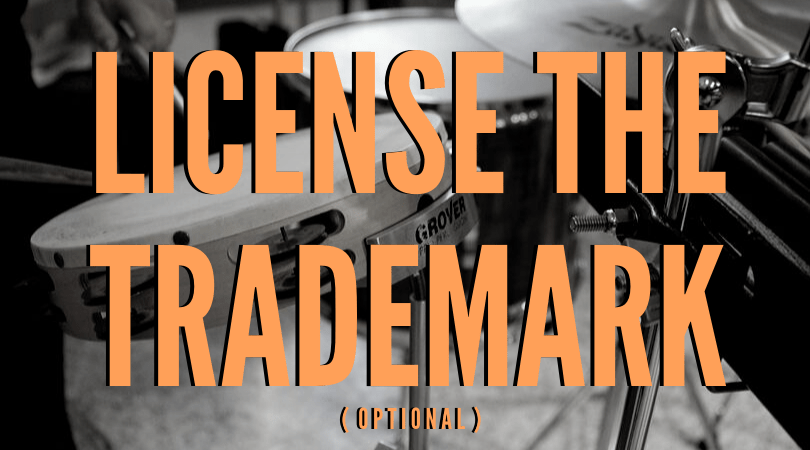 The final step of acquiring a trademark is deciding what you're going to do with it once you have it.
Of course, the registration of a trademark allows a band to prevent others from using its name for commercial purposes.
According to definitions.uslegal.com "commercial purposes" means, "The carriage of persons or property for any fare, fee, rate, charge or other consideration, or directly or indirectly in connection with any business, or other undertaking intended for profit."
So if you're planning to make any substantial amount of money from your band, you should probably make sure you've gotten it trademarked.
A trademark also allows a band to license its name to others, for a limited time in exchange for a fee.
This can be an additional source of revenue for a band, or it can also be a loophole for bands that desperately want to use an already trademarked name.
If the band name you want is already registered, do some research about the band and the person who trademarked the name.
If you learn that the name was only used for a short amount of time, and the band has since broken-up, the chances of you being able to affordably license the name are pretty likely.
RELATED QUESTIONS
How often do trademarks need to be renewed? Trademarks need to be renewed once every 10 years. However, you can keep a trademark registered for as many consecutive 10-year periods as it's actively being used for commercial purposes.
How long does it take to register a trademark? The application process for a registered trademark can take between 2 and 3 months. The process can be extended depending on how long it takes the applicant to complete the necessary requirements and how long it takes the U.S. Patent and Trademark Office to process the request. Once the application is complete, and the trademark is purchased, it may take an additional 1 to 2 months before the official trademark certificate is received.
What are live and dead trademarks? Live trademarks are currently registered and recognized by the U.S. Patent and Trademark Office and cannot be applied for. Dead trademarks were once registered or applied for but the Patent and Trademark Office doesn't recognize them anymore. Anyone can actively apply for dead trademarks.
Do I need to copyright my music? Music is automatically copyrighted the moment it's created in a tangible medium, like on paper or on audio recording. As long as you can prove you wrote or recorded the song, you already own the required copyrights to your music.
For more industry tips and music marketing hacks, check out Ennui Magazine. You can also follow us on Facebook, Twitter, Instagram, Pinterest, and YouTube.