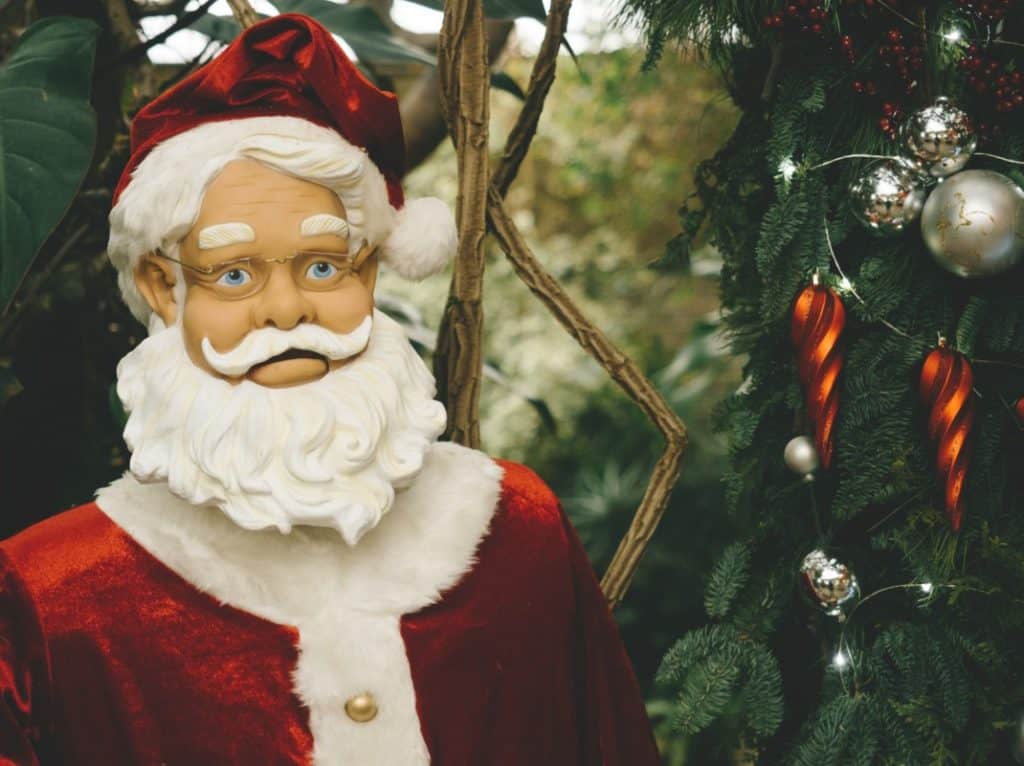 Now that we've shovelled copious amounts of turkey and 'taters down our gullets, it's time to spin the Christmas classics that raised us. While nothing compares to the nostalgia that's summoned by the voices of Nat King Cole or Bing Crosby, there is a humongous catalog of indie Christmas songs that will spice up any seasonal playlist. 
Several indie artists have either reinvigorated the holiday genre with an original song, or crafted unique covers of timeless hits. So whether you're hoping to find something different or to hear an old song anew, here are 10 Indie Songs That Deserve To Be Christmas Classics. 
1. "December, Darling" by Meg & Dia
First on the list is a new song that feels cozy and familiar. "December, Darling" by Meg & Dia captures the wonder and romance of Christmases past. Though the instrumentation is simple, the vocals hold your hand as they walk you through your happiest Christmas memories.
And as expected from the sister duo from Utah, the harmonies throughout make the song feel full and spirited. Released in 2019, "December, Darling" is ideal for couples who want to indulge in some tree-side canoodling. 
2. "Threadbare" by The Wonder Years
Most everyone has hoped this year would be better than 2020, and luckily for us, The Wonder Years have made that a possibility thanks to their new release "Threadbare." Though they're more pop punk than indie, this song isn't overtly either — but it certainly glows.
Dan Campbell delivers one of the most compelling vocal performances of 2021 as he sings about how simpler life used to be. "Threadbare" makes room for intimate storytelling as lyrical tropes take the back seat.
If you're looking for a song that doesn't beat you over the head with the holly and the jolly, but still manages to feel like home on a cold Christmas day, this one's for you.
3. "Have Yourself a Merry Little Christmas" by The Beths
The Beths are a super talented indie pop band from New Zealand, and their rendition of "Have Yourself a Merry Little Christmas" is the first cover to make the list.
Though they don't deviate too much from the original song penned for Judy Garland in the 1940's, this version checks all the boxes: It's timeless, Christmassy, and most definitely indie pop.
The Beths do the song justice while also including a fuzzy guitar solo that rips in around the 3-minute mark. And if you're a fan of quirky-yet-tender homemade music videos, I'd recommend checking this one out. 
4. "Christmas Lights" by Coldplay
This admittedly-not-that-indie addition to the list is included simply because the song is pure magic (and it was released only 10 years after "Parachutes" if that makes anyone feel better).
Coldplay boldly captures the hope that Christmas lights are meant to represent with this song. And since it doesn't follow a verse-chorus-verse-chorus structure, "Christmas Lights" is repeat-friendly and makes an enduring addition to any Christmas playlist.
It's definitely a ride, too, as the first half is all a build to a triumphant refrain at its conclusion that puts Chris Martin's vocal range on full display. The music video is also worth the watch — especially if you're a fan of continuous shots. 
5. "Christmas Time is Here" by Khruangbin
Another cover of a classic, Khruangbin trades in the snare brushes and children's choir for a spacey, chill, and delightfully groovy version of the song.
Released in 2018, the American trio from Houston serves an instrument-forward rendition of the song that still features some vocals in the background. Elegant, viby, and indie, the song can fit into anyone's Christmas repertoire with ease.
6. "Noel" by Tow'rs
A cover of the traditional English Christmas carol, "The First Noel," this 2020 release is a completely new take.
Though the lyrics don't stray notably far from the original, this version makes the list because Tow'rs crafted a sonically new song; that is to say, rarely ever does it sound like you're listening to "The First Noel."
Infused with indie and twang, Tow'rs' "Noel" is a refreshing take that's safe for indie lovers as well as their orthodox grandparents. And if you dig it, then you might enjoy the rest of the songs from Tow'rs' Christmas album titled The Holly & the Ivy.
7. "two queens in a king sized bed" by girl in red
The closest to lo-fi among all the songs on this list, "two queens in a king sized bed" by girl in red is beautifully haunting. As the title indicates, the song is about lovers sharing a bed, kissing on Christmas Day despite the absence of a mistletoe.
As the song grows sonically and thematically, the listener discovers how deep the narrator's obsession for her love goes. The simple and almost giddy piano melody is interrupted frequently by a rush of strings and spacey ambience, building tension that makes the listener feel like they're a part of the story.
If you're in the mood for a Christmas song that's intimate and absolutely captivating, give this one a spin. 
8. "Christmas Song" by Phoebe Bridgers
Phoebe Bridgers' "Christmas Song" is perfect for the emo kid who grew up to like indie music. It's a song about suffering from inescapable depression during Christmas, and finding oneself surrounded by people who can't relate.
This song deserves to be a classic because it depicts the unsung experiences of many during this time of year. Bridgers' song juxtaposes the quiet suffering of the heart with the bright Christmas lights and joyfully triumphant tunes that the season brings. A stunningly real and often relatable Christmas song that can diversify anyone's holiday playlist.
9. "Cry Cry Christmas" by The Sweptaways ft. Magnus Carlson and Gray Brigade
Another sad Christmas song, "Cry Cry Christmas" by The Sweptaways focuses on unfortunate circumstances like cooking a dry turkey and romances going awry.
What makes this song "classic" material though, is it's big band sound. With a female choir, a saxophone solo, a big drum beat similar to the one in The Ronettes' "Frosty the Snowman," and a man singing his heart out, "Cry Cry Christmas" will sit nicely next to all your jazzy Christmas favorites.
10. "Lonely Christmas" by Now Now
A 2019 single from the indie rock duo, "Lonely Christmas" is this generation's "Last Christmas." The two songs are similar as they both feature straightforward beats, big synth-lead sounds, and lyrics about heartache.
The comparison is a good thing, too, considering "Last Christmas" by Wham! is one of the biggest Christmas Hits of all time. When the jingle bells come in with the chorus in "Lonely Christmas," though, it's an unmistakable banger.
More than any other on this list, Now Now's song makes you want to dance with some spiked apple cider in the kitchen while you're waiting for your sugar cookies to bake.
For more industry tips and music marketing insights, check out Ennui Magazine. You can also follow us on Facebook, Twitter, Instagram, Pinterest, and YouTube.